XXXIX+I
---
RESULTS
posted November 3, 1997
A jury reviewed the submissions in XXXIX+I and subsequently made the recommendation that there not be 39 'winners'. The reason given was that the work submitted did not meet the standards established by XXXIX in 1996. Not surprisingly, some of the exhibited works were authored by architects already exhibited in XXXIX. The jury recommended that numerous registrants be returned their submission and registration fee in addition to a note suggesting that the registrant polish up on his or her skills. Regardless, the 'Magnificent 7' are presented as per the jurors' wishes without further apology:

Rural House
Mark Wright
Glen Ridge, New Jersey

Chiosco
Gianmarco Cavagnino
Canelli, Italy

Purgalotory
Jason Snyder
Atlanta, Georgia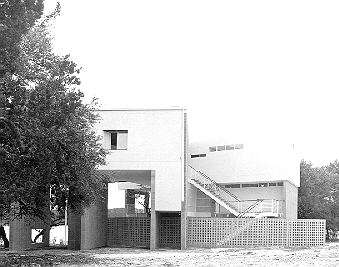 Carmichael Residence
M. J. Neal
Austin, Texas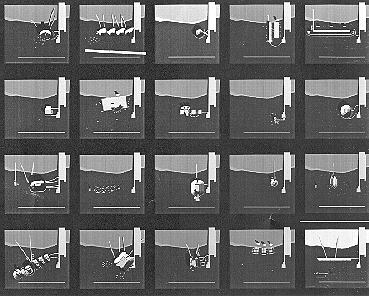 Bigfoot
Brian T. Rex
Denver, Colorado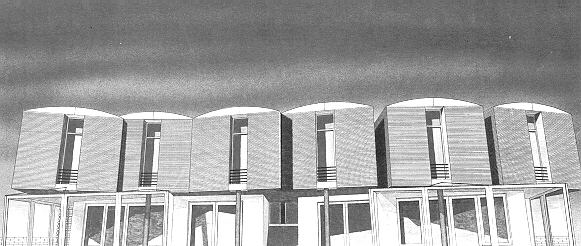 Casa Kiara
Claudio Zanirato
Bologna, Italy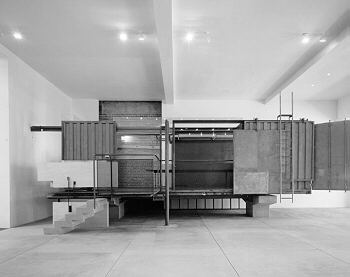 Reactor Films
Lawrence Scarpa
Santa Monica, California
---
Rules for XXXIX+II will be posted in the near future.
---
ANNOUNCEMENT
The ACADEMY OF ARCHITECTURE ARTS & SCIENCES hereby announces the second running of its annual design competition: XXXIX. This time the second running of 39, or THIRTY NINE, will be known as XXXIX+I or THIRTY NINE PLUS ONE. The goal of this competition is to once again find 39 of the best architects and designers in the world at or below the age of 39.
PURPOSE
This competition seeks to identify, exhibit and publish the 39 best projects by the 39 best architects in the world under the age of 39. It is a competition in search of 39 works by 39 architects under or at the age of 39. Competitors must be born on or after January 1, 1957.
ELIGIBILITY
Submissions must describe one architectural design project or work of design. Work may be built or unbuilt. The author of the work must be the primary designer. Collaborative work is allowed. Student work is allowed. Registration as a licensed architect or design professional is not required.
SUBMISSIONS
Submissions should include the following items depicting the work for consideration: a maximum of four 8 inch x 10 inch black and white photographic prints and a maximum of four 35mm slides. The slides may be either color or black and white. These items should be enclosed in a sealed white envelope. No original work should be submitted. Work will not be returned. The prints and slides should have no identifying marks of any kind. Please, no binders. The envelope should have no identifying marks on it. A second envelope should include the registration form and identify both the participant and the work. A resume may be included. Documented proof of age is required. The author should also include an original black and white passport sized photo. These additional items should be enclosed in a sealed colored envelope. The envelope should have no identifying marks on it. A $39 U.S. (thirty nine dollars) registration fee should be included in the colored envelope. Additional projects may be submitted but must be accompanied by additional registration fees and forms.
DEADLINE
Submissions are due postmarked on or before August 17, 1997 and should be sent to THIRTY NINE PLUS ONE, c/o ACADEMY OF ARCHITECTURE ARTS & SCIENCES, Box 10662, Crescent Station, Beverly Hills, California 90213 U.S.A. It is recommended that items be sent by priority mail and/or certified mail. Items sent on time should be free of customs duties. Items must be received by the Academy before 12 noon PST September 2, 1997.
JURY
The jury shall consist of three distinguished architects and/or intellectuals. The jurors shall remain anonymous before judging. Submissions shall be presented to the jury in the order received. Results will be made public on or about September 30, 1997. Results will also be posted at this webpage.
EXHIBITION
An exhibition and publication shall follow the announcement of the thirty nine selected works. The selected thirty nine architects may be requested to submit additional materials for exhibition and publication.

REGISTRATION
To submit a project in THIRTY NINE PLUS ONE without the official form, please send your name, address, phone number, fax number, date of birth, education and occupation. This should be accompanied by the name of the project, building type, location, client name and address, date of completion and photo credit (if any). This information should be sent with the registration fee, a photograph of yourself and the design work to the ACADEMY by August 17, 1997. The registration fee may be paid by check, money order or credit card (Visa and Mastercard is accepted). Checks should be in US dollars drawn on an American bank or or the equivalent units of your national currency drawn on a major bank from your country. For example, payment by Canadian dollars on a Canadian bank or German marks on a German bank would be acceptable. You may also pay by electronic transfer by routing funds to the ACADEMY at the Wilshire Boulevard branch of the Bank of America (routing number 122000661, account number 02139 19255) in Beverly Hills.
Answers to Frequently Asked Questions about XXXIX+I are available on line. The ACADEMY may be contacted via mail, phone, fax and e-mail for further information and updates.
XXXIX+I
c/o ACADEMY OF ARCHITECTURE ARTS & SCIENCES
Box 10662
Beverly Hills, California
90213
USA
phone: (213) 296-6226
fax: (619) 299-0957
e-mail: xxxix@frank.org

---

ACADEMY OF ARCHITECTURE ARTS & SCIENCES


---
© 1996, 1997 ACADEMY OF ARCHITECTURE ARTS & SCIENCES
Back to Ron's page