DEER-PROOF decorative vegetation!! -
This plant survived several complete growing seasons without ONCE being eaten by the scores of deer that decimated every other unprotected tree sapling and bush in my yard. Whatever it is, they don't like munching on it! Yet the plant is very attractive, a rich bold green plant with bilaterally-symmetrical oppositional large leaves. This is a very attractive and fast-growing softwood tree/bush.
In my own yard, seven seeds grew to a set of plants that are currently form a solid wall 12 feet tall and 20 feet wide. Each pair of leaves CLOSE at night like a pair of opposing fans. In the morning they unfold to gather light once again.
The bright yellow flowers form a cone nearly a foot tall and last for several weeks to a month or more. Each plant produces multiple flower cones. Bees and butterflies DO like this plant, though.
This plant needs plenty of sun and warmth, and tolerates plenty of water. I planted some on the south side of my house and they survived the winter of '97 here in Central Texas (Austin), despite a number of freezing days. Plant seeds after the last frost, or start indoors early and transplant. If the ground freezes and the roots then freeze the plant will die, so these are NOT freeze-hardy. Each plant can produce seeds that can be used the next growing season.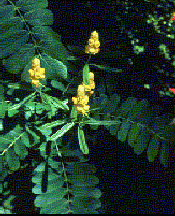 Cassia alata Genus : Cassia Species : alata
Common Names : candlebush , Candletree; Seven Golden Candlesticks
Hardiness Zone(s) Preferred: 9, 10, 11 for perennial survival
Plant Origin : Not native to North America
Plant Group(s): Shrub
Planting Use(s) Recommended: Border, Mass Planting, Specimen Plant
Light Exposure(s) Preferred: Full Sun
Soil Type(s) Preferred: Sandy, Well-Drained, Alkaline, Drought/Dry, Clay, Tolerates Acid
Salt Tolerance: Moderate
Height : 10 - 15 Feet
Spread : 10 - 15 Feet
Shape(s): Upright
Growth Rate(s): Fast
Flower Color(s): Yellow
Flower Characteristics: Showy flowers, Summer flowers
Fruit Color(s): Brown
Fruit Characteristics: Insignificant fruit
Leaf Characteristics: Semi Evergreen
Leaf Texture: Medium
Leaf Color(s): Green
Outstanding Fall Color:
Bark/Limb Characteristics: Bark not showy, Has no thorns
Winter Interest : No