This is our tribute and commendation to
M.J. Neal
of
Atelier * Enigma
707 Cardinal Lane
Austin, Texas 78704
+1 512 443 1903
We spent two years searching the shores of Lake Travis for the appropriate site for our final home. Once we had found and acquired the land we began searching for and interviewing architects. One in particular seemed promising - Gayle Borst of Austin. After several discussions including a site visit she recommended a friend and associate, MJ Neal, whom she felt would be more suited for this kind of construction. MJ met us and we visited some of his past works. We all then felt it was worth a site visit.
This site is a point of waterfront land on a 67-mile long flood control lake, one of a series of 5, in Central Texas. The Highland Lake System was designed in part by my uncle, Arthur Gloster Anderson, back in the 40's, a project empowered by congressman Lyndon B. Johnson. Willy Nelson's Pedernales river feeds unchecked directly into this lake. Rainfall in the Texas Hill Country feeds the Pedernales - in 1996 during a 48-hour period about 70 billion gallons of runoff caused the lake to go up some 20 feet. So this lake is not a constant-level lake and MJ had to design accordingly. There are 20 or 30 live oak trees with trunks from 8 inches to 2 feet in diameter, and we did not want to remove a single one. Now the dam for this lake has it's spillway at 715 feet ASL. Our land is at 695 ASL, and by law the living space has to be above this spillway. I wanted to provide the automation for this house (which I have). These were some of the restrictions on design that MJ had to consider.
MJ met us at the lake, and he listened to us and he listened to the land and the lake. He listened to the wind in the large live oak trees and he saw the magic of the land. I can still picture him in my mind's eye - hunkered down while the Texas sun beat down, absorbing everything about the site. He listened to us and our unique desires. He actually understood it all.
In about two weeks we went to his studio for a meeting where he presented the plans and a model. We were not prepared for what he had done, how developed and professional his presentation was, but we loved it! I would guess that the structure you see in these pictures is about 90% unchanged from the original design he presented to us that day. MJ worked with us to tune up the designs, enhancing the results and fitting the design to our needs.
There were times when we had doubts about a particular feature of his design and in virtually every instance MJ convinced us to stay with his design. With not a little chagrin I can say in hindsight that he was right. <G> Trust is a hard thing to give, but ours was not misplaced.
We've never built a home before and were concerned about our ignorance diminishing the success of this process. We therefore retained MJ to guard his design and represent our interests during the construction process. After our choice of MJ as the design architect, It was perhaps the single wisest move we made, to have MJ involved in the building process. To this day I cannot think about the builder without a concomitant rise in my systolic blood pressure. Without MJ it would have been truly disastrous.
If I could hire MJ to design a dozen structures, I would. Since at this point I believe that he has given me the house I will live in till I die, the best I can do is to testify as to his worthiness and to commend him to anyone who might wish to create a personal, functional artwork. This is therefore an unsolicited, non-imbursed<G>, and non-commercial homage. If this helps MJ in any way then it serves my personal karmic debt. Ron Carmichael, Dec.25th,. 1997
addendum, June 30th, 2005: After more than 8 years, my convictions remain undiminished - This house is still a pleasure to live in, the environment wonderful to wake up in each day. Thanks again, MJ - Ron Carmichael
Finished Photographs of MJ's Curving Wall in Lago Vista, TX
More Curving Wall Photos of the finished product
MJ's Design won a prestigious award!
I checked his website and was not surprised at all to discover he has attained a number of other awards won since those for our project, such as (but not limited to) :
INTERIOR DESIGN AWARD INTERNATIONAL INTERIOR DESIGN ASSOCIATION
Anthony Nak Flagship Store, 2005

DESIGN HONOR AWARD TEXAS SOCIETY OF ARCHITECTS
Ramp House, 2004

CITATION OF HONOR AMERICAN INSTITUTE OF ARCHITECTS, AUSTIN
Anthony Nak, 2004

MERIT AWARD AMERICAN INSTITUTE OF ARCHITECTS, AUSTIN
Twin Peaks, 2004

SILVER MEDAL, INTERIOR DESIGN-RESIDENTIAL BIENAL MIAMI BEACH
Ramp House 2003

DESIGN HONOR AWARD TEXAS SOCIETY OF ARCHITECTS (3 years running)
More About MJ (an RTF file)
These are views the architect favors. The first is a view from a patio on the ground floor. The lake and numerous live oaks are framed into resembling a painting. This was one of the first features during construction that explained me what an architect's "space" meant. This house is FULL of spaces. Intelligent spaces.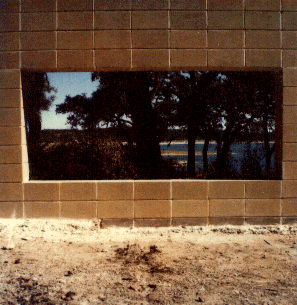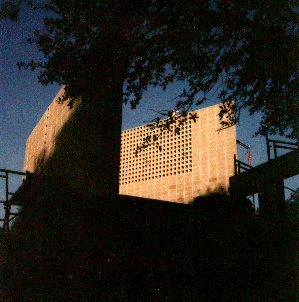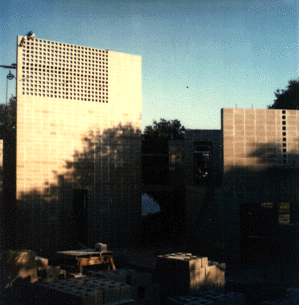 Back to Curving Wall to view more construction pictures